Click here to view the latest thurstontalk.com article on how our caregivers are doing during the COVID-19 pandemic.
Checking in on the COVID-19 Frontline Workers of AHC
The CDC reports that eight out of ten deaths from the COVID-19 epidemic have been adults 65-years-old or older. As the world looks for treatments or a vaccine to reduce the threat to the public, care must continue for the vulnerable population of older adults until solutions are found. On the frontline are homecare caregivers like the hardworking professionals at Advanced Health Care. Julianne Ferguson, administrator for Advanced Health Care, wants to share some updates on what it's like for home caregivers working on the frontlines right now.
Changes as a Result of COVID-19
For the frontline caregivers of Advanced Health Care, it's almost business as usual. "To be honest, we haven't needed to make a lot of changes [to staff protocols]," says Julianne. "We've always placed a high emphasis on the importance of good hygiene with thorough hand washing, using gloves and regular cleaning and disinfecting of surfaces."
Advanced Health Care has added masks into their care protocols as an added layer of protection. "We haven't had anyone test positive for COVID-19, clients or employees," she adds, "but we are staying vigilant." Employees follow a strict protocol of temperature monitoring and checking for symptoms of illness, and they never go to work when sick, even before the current pandemic. "Right now, we have a heightened awareness of the current epidemic, but health, safety and good hygiene have always been top priorities for us."
Stay Home, Stay Healthy
"Working in a residence is a different environment than for those caregivers working in a facility," says Julianne. "We have the luxury of taking care of someone in their own home, which is the safest place for them, and it's the safest place for our employees." Advanced Health Care clients want to stay in their homes for a variety of reasons. The COVID-19 epidemic has only reinforced that decision. "Some of our clients no longer want to leave the house, not to pick up groceries, not even to get the mail," she explains. Home caregivers provide a variety of functions for their clients including cooking, house-keeping, running errands, companionship and more. "We have amazing employees that are so committed to their clients, and that one-on-one relationship that they develop is really important to them. Especially for their mental health," she adds.
The emotional component of staying home cannot be understated, "Our employees get to experience the satisfaction of helping someone continue to stay in their home," says Julianne. The reassurance clients feel with the continuation of the care they were already receiving prior to the pandemic is important to Advanced Health Care. "Our clients know their caregiver is still coming. That caregiver is wearing a mask now, but she's the same caregiver that they've known all along." The regularity of routine, combined with the familiarity of staying in their own home provides safety and security that is important especially during such an uncertain time.
Shifting Needs in the Client Base
Advanced Health Care has experienced a shift in the needs of their clients since the COVID-19 crisis began. With more people working from home, or temporarily out of work, some clients need less care, as their families have stepped in and taken up the work. But for every client that needs less help from a caregiver, there are regular clients that need more help, and new clients, too.
Advanced Health Care has seen a rise of new clients as more seniors choose to stay home to limit their contact with the public. For some clients, caregivers are the only person they see. Families and individuals might find themselves on edge when they read about outbreaks at senior care facilities. "Seniors want to stay in their homes right now, and we can help them do that," says Julianne.
Office Staff Do Their Part
Advanced Health Care support and administrative staff have also made some changes in response to the COVID-19 epidemic. "We've always had some people that telework from home, but now we have a lot more working from home when they can," Julianne explains. By limiting the number of people in the office, Advanced Health Care employees are doing their part to flatten the curve.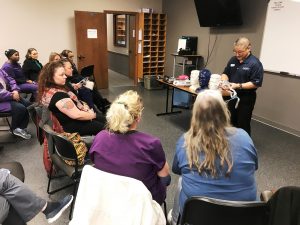 "We can provide a safe alternative to facility care. It's a privilege to be here as a part of the community for 36 years," says Julianne. "We want to keep our employees and our clients healthy, and we make great efforts to keep everyone that way."
Advanced Health Care home caregivers provide basic personal care and household management services. Their licensed practical nurses and registered nurses can provide more skilled and complex nursing services to clients with those needs. If you or someone you love wants to stay in their home and can benefit from these services, call Advanced Health Care at 1-800-690-3330 or visit the Advanced Health Care website for more information.